Office Location
Rossmere Plaza 1050 Henderson Hwy #8 Winnipeg, MB R2K 2M5
Denture Implants / Implant Supported Dentures
Implant Supported Dentures are a great solution for patients that experience pain or discomfort while eating, have trouble chewing or have a loose fitting denture. Implants are small titanium screws that are designed to replace missing tooth root and are placed into your jaw bone. Your bone grows around the screw providing a solid anchor for replacement teeth!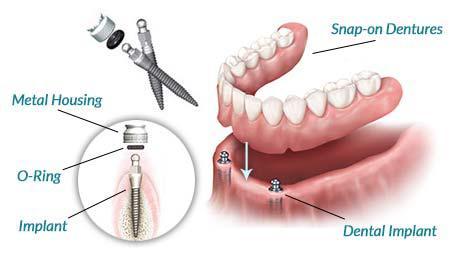 There are 2 main types of Implant supported dentures;
Removable implant dentures Snap-on dentures & friction fit.

Friction fit dentures are designed to rest on your implants using friction.
Snap-on removable dentures are designed to snap-on to the implant making it a strong and secure fitting.
2. Fixed screw retained dentures.
Do you suffer from difficulties or problems like:
loose fitting dentures
pain & discomfort
poor nutrition due to inability to eat and chew properly
changes in your facial appearance
reduced self confidence and quality of life.
Implant supported dentures securely attached in your mouth to prevent, reduce or eliminate denture movement holding your dentures securely in place.
Implanted Dentures may be the solution for you!
The Benefits of Denture Implants:
Generally a lower denture would require a minimum of 2 implants, and an upper denture would require a minimum of 4 implants (for a palateless denture) however 2 implants may be used for the upper denture provided you keep the middle connecting portion called the palate for additional support.
Improved confidence
stability during eating
increased preservation of bone
decreased gum tissue shrinkage
less food seapage under the denture
improved health benefits due to proper chewing and digesting of food
eliminates pain caused by ill fitting dentures
can improve speech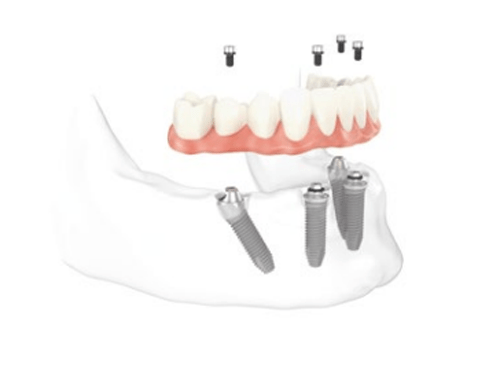 What to expect;
Careful planning is important to achieve the best possible result. X-rays and three dimensional models of your mouth will enable Expert Denture Clinic to determine the best treatment option.
A gentle surgical procedure is used to place your implants where they will be left to heal for up to 12 weeks giving your bone time to integrate with the implant. A temporary replacement denture can be worn until your new denture is ready to be fitted.
Once your bone had integrated with your implants, connectors are placed on the implants. Your new replacement denture will be custom made with both cosmetic needs and functionality in mind.
Fabricating your new denture will require a series of appoinments to ensure proper size, shape, colour and fit.
Frequently Asked Questions
Do you offer seniors discounts?
Yes! Regardless of whether you're an existing client or new client, we always offer competitive pricing and discounts for seniors.
Do you do same day repairs?
Yes! Not only do we offer repairs, but more often than not we're able to provide same-day repairs! Just give us a call!
Where can learn more about dentures?
Do you provide free consultations?
Yes! We believe that the best oral health comes from working collaboratively with you to find a solution tailor-made just for you. We'll do a full consultation before starting any work to ensure you get the treatment you need!
Where are you located?
Rossmere Plaza 1050 Henderson Hwy #8 Winnipeg, MB, R2K 2M5
Phone: 204-334-0022
How can I be sure you're the right denturist for me?